WESTCAT UPDATES RELATED TO CORONAVIRUS
Updated May 27, 2021
Riding Together: Bay Area Healthy Transit Plan
WestCAT has joined forces with transit operators across the Bay Area to initiate research, study U.S. and international efforts, and review information from the American Public Transportation Association, to develop common commitments and expectations for employees and passengers in our Bay Area transit systems. These efforts have produced Riding Together—Bay Area Healthy Transit Plan. This plan was developed through a collaboration of all Bay Area transit operators as well as regional leaders, transit workers, paratransit providers, rider advocates, public health experts, and others. It is a cohesive health and safety plan to bring the region's public transportation providers together around transit-related health and safety standards and mitigations. WestCAT and its Board of Directors have officially adopted Riding Together—Bay Area Healthy Transit Plan and are committed to its success.
To see the WCCTA Board Resolution supporting Riding Together: Bay Area Healthy Transit Plan, click here Riding Together Resolution (PDF)

To learn more about Riding Together—Bay Area Healthy Transit Plan and to view the plan in its entirety, visit http://www.healthytransitplan.com.
WHAT WESTCAT IS DOING TO PROTECT YOU
All of us at WestCAT are committed to providing a safe environment for our customers and employees. We believe we are all in this together. To provide a safe environment for our customers and employees, WestCAT is currently performing the following safety measures:
We have enhanced our nightly bus cleaning schedule to include fogging and wiping down high touch areas (handrails, ceilings, walls) and all exposed hard surfaces inside of the buses using commercial and hospital-grade cleaners and disinfectants, consistent with CDC guidance.
We have installed hand sanitizer dispensers on all buses.
We are requiring all passengers to wear facemasks while riding on all WestCAT buses.
We are providing complimentary facemasks to customers who board without one whenever possible.
We have limited the number of people who may be on board buses to allow for recommended social distancing.
We have included a daily sanitizing and disinfecting routine at our facility.
We are encouraging staff members and drivers to take everyday preventive actions and to stay home if they present with fever and/or respiratory infection symptoms.
We are monitoring daily transmissions from the CDC and County Health Services and every precaution is being taken to protect the health and safety of our employees and customers.
As WestCAT is taking preventative measures and enhancing cleaning procedures to protect staff and riders, we also encourage passengers to practice good transit hygiene, mirroring what health officials have been stressing: wash your hands frequently, use a hand sanitizer that contains at least 60% alcohol, cough into your elbow, and stay home when you are sick.
For more information about what Contra Costa Health Services has to say for people living in Contra Costa County CLICK HERE.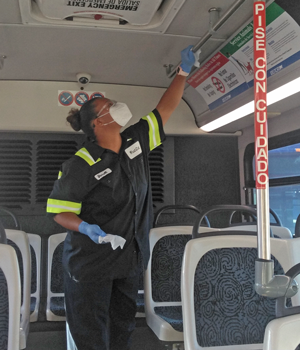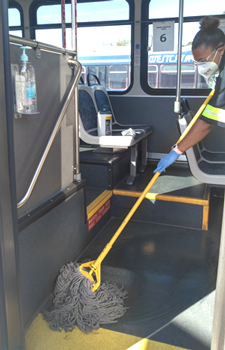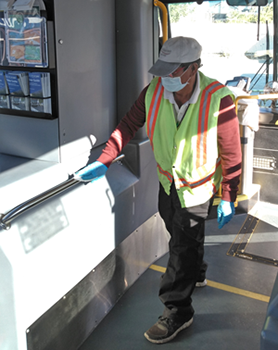 PASSENGER CAPACITY / SOCIAL DISTANCING: FULL CAPACITY RESUMES JULY 1, 2021.
Starting July 1, WestCAT will return to full passenger capacity on all buses without social distancing requirements. MASKS WILL STILL BE REQUIRED. Please observe the mask requirement at all times while riding WestCAT buses. Until July 1, we are operating at 50% capacity as follows:
Double-Decker Buses: 44 Passengers
45 Ft. Motor coach: 28 Passengers
40 Ft Low-Floor Buses: 20 Passengers
40-Ft. Buses (non Low-Floor): 23 Passengers
35 Ft. Buses: 16 Passengers
Please be aware that you may be asked to wait for another bus if a bus has already reached a safe passenger capacity. WestCAT is making every effort to have stand-by support vehicles in service to address your travel needs and decrease wait times. However, please be aware that there may be times when you are required to wait for the next scheduled bus. We appreciate your understanding and support during these challenging times. Passenger safety remains our primary concern and we appreciate your patronage.
To see WestCAT's complete Social Distancing Protocol CLICK HERE (PDF).
FACEMASK REQUIREMENT - FACEMASKS STILL REQUIRED ON ALL WESTCAT BUSES
On April 30, the Transportation Security Administration (TSA) extended the face mask requirement for all transportation networks, including public transportation, through September 13, 2021. TSA's initial face mask requirement went into effect on February 1, 2021 with an expiration date of May 11, 2021. While this announcement extends the date of enforcement, all other aspects of the requirement remain unchanged, including exemptions and civil penalties. For information about the federal mandate on face masks click the link below.
CLICK HERE.
FARES / BOARDING (FARE COLLECTION RESUMED FEBRUARY 1, 2021)
WestCAT temporarily suspended the collection of fares on all fixed route and Paratransit buses. This remained in effect until February 1, 2021 when fare collection resumed. As of February 1, 2021 full fare has been required. Please be prepared to pay fare to avoid being denied a ride.
We implemented rear-door boarding on all WestCAT buses with rear doors. This remained in effect until February 1, 2021 when fare collection resumed. Front door boarding is now required. We ask all passengers to practice social distancing while on the bus and allow as much space as possible between the driver and other passengers while onboard.
LYNX BUS TO SAN FRANCISCO
Lynx Transbay Service to Salesforce Transit Center will operate a modified schedule until further notice. To see the modified Lynx COVID-19 schedule CLICK HERE (PDF).
LOCAL / EXPRESS BUS SERVICE
Effective Saturday, April 18, WestCAT began operating a modified service schedule on select routes in response to the COVID-19 pandemic. Please be aware that your regular/usual bus routes and schedule may temporarily be different or unavailable. We appreciate your patience and understanding. To view the entire modified schedule
CLICK HERE. (PDF).
DIAL-A-RIDE/PARATRANSIT
In compliance with Governor Gavin Newsom's stay at home order issued March 19, 2020, WestCAT's Dial-A-Ride and ADA Paratransit services are now only carrying passengers for essential trips as defined by the order. To see the Governor's stay at home order CLICK HERE.
For updates about Paratransit service, please click here to visit our page and keep an eye on our website for more information as it becomes available.
ADMINISTRATIVE OFFICE CLOSED TO THE PUBLIC
WestCAT's Administrative office is currently closed to the public. We apologize for any inconvenience this may cause you.
TICKETS / PASSES
Currently, WestCAT has suspended all fare collection including Clipper payments on all routes. Please board the bus and proceed directly to your seat.This will remain in effect until February 1, 2021 when fare collection will resume. Please be prepared to pay full fare on February 1, 2021 to avoid being denied a ride.
If you purchased a 31-day pass in March 2020 when the shelter in place was ordered, it will be honored when fare collection resumes. When fare collection resumes, if your 31-Day pass is rejected by the farebox, just show it to the driver as a "Flash Pass" and you will be permitted to ride through the end of the current month.
WestCAT passes may now be purchased online at WestCAT Online Store
CLIPPER
All Clipper card services will need to be handled directly through the Clipper Customer Service Center by visiting www.clippercard.com or by calling 877.878.8883.
All of us at WestCAT recognize that public transit is an important service to our community. We are working hard to make sure bus service in Western Contra Costa County is provided during this challenging period. Your cooperation and patience is greatly appreciated.